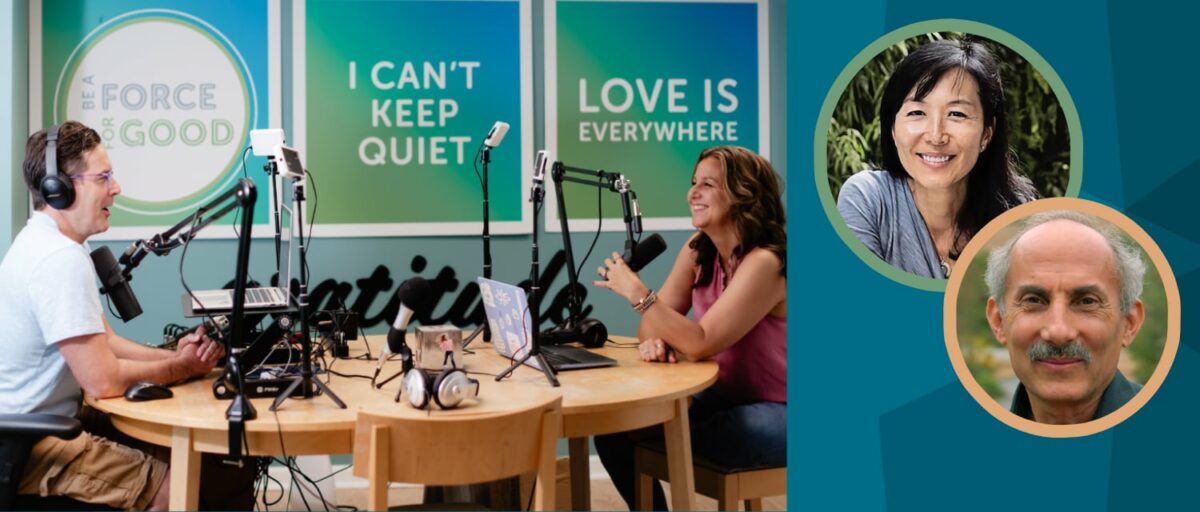 Weekly Reflection: Six Steps for Dealing with Anxiety (ZPR #724)
Greetings once again! It's Brad MacLean, Todd & Cathy's go-to "IT Guy" 🤓, friend, and supporter of the Zen Parenting Radio podcast.  I'm back with my second weekly reflection; this one on their latest episode – Six Steps for Dealing with Anxiety (ZPR#724).  If you want to improve your relationship with anxiety, and/or your child's, then this episode is for you.
Why am I here? To share little nuggets of wisdom from Todd & Cathy's honest, authentic conversations that personally have helped me be a better husband, parent, and human being, in hopes you and many others get the same experience!
What's in store? A short and sweet outline of their discussion with TeamZen member, Millie Hsi on "6 Steps to Deal with Anxiety from Jack Kornfield" (including short clips from the show).   This will give you the gist of the episode along with easily digestible practical tips you can put into practice immediately. However, keep in mind, I'm just giving a taste; there is so much more so please check out their entire episode to experience the many impactful and funny moments! Even amongst the serious topics, there are always moments of laughter and light-heartedness you don't want to miss!
Ready? Let's dive in!
Introduction
In this podcast discussion, Todd and Cathy, along with their special guest and TeamZen member Millie Hsi, discuss Anxiety, a universal human experience. They share insights from renowned mindfulness teacher Jack Kornfield and reflect on his six-step approach for effectively dealing with anxiety.
I'd be remiss not to also include Cathy's introduction to this episode. Here it is:    "We discuss Jack Kornfield's advice for reducing anxiety, and how fear, history, and programming can make it more difficult; and process why back-to-school is particularly challenging for parents, and the simultaneous presence of joy and grief as children grow and transition. We are joined by Millie Hsi, a friend and member of their Team Zen virtual community, who shares her personal experiences and insights on coping with anxiety
With the ground laid, here's a complete summary of the six transformative steps discussed, including a short video clip from the episode at each step, highlighting their personal insights. Enjoy!
STEP #1: Naming Your Anxiety
Recognize and Acknowledge: Jack Kornfield emphasizes the importance of acknowledging anxiety as a human experience and naming it. By doing so, you can separate yourself from the anxiety and recognize it as something apart from your essence. Millie and Cathy discuss the power of helping children (and adults) name their anxiety, even giving it a character like "Fred, the worry monster," to separate it from themselves.
STEP #2: Express Gratitude
Instead of fighting anxiety, Jack suggests thanking it for trying to protect you. This paradoxical approach reframes anxiety into something positive, recognizing its role in protecting you.
STEP #3: Accept Insecurity
Jack talks about the wisdom of insecurity and the importance of getting comfortable with uncertainty. Cathy and Millie emphasize the need to let go of control, especially in parenting, and accept that everything is uncertain.
STEP: #4: Ground Your Senses
Jack advises grounding your senses, feeling your feet on the floor, or connecting with nature. Though challenging during anxiety, this practice can be soothing and grounding.
STEP #5: Cultivate Self-awareness
Jack mentions the practice of questioning your thoughts, as taught by Byron Katie. Self-awareness, curiosity, and acceptance are key here. Todd emphasizes that awareness and acceptance are the foundations for transformation.
STEP #6: Wrap with Kindness / Connect with Physical Sensations
Jack suggests finding where you feel anxiety in your body and wrapping it with kindness and compassion. Recognizing the physical sensations and stories anxiety tells allows you to honor it while knowing you are more than it.
Conclusion
This podcast discussion offers a compassionate and insightful roadmap for dealing with anxiety. From naming and acknowledging anxiety to expressing gratitude, accepting insecurity, grounding senses, cultivating self-awareness, and wrapping anxiety with kindness, these six steps provide practical guidance for anyone struggling with anxiety.
The conversation also emphasizes the universality of anxiety, the physiological and cultural aspects, and the importance of curiosity, self-reflection, and gratitude. As Todd aptly puts it, these steps are a "great roadmap for living."
Whether you're a parent trying to guide a child through anxious moments or an individual grappling with anxiety yourself, these insights from Jack Kornfield, Millie Hsi, Todd, and Cathy offer a gentle and understanding approach to a complex emotion.  I hope you found this a worthy addition to your self-improvement and parenting toolkit. I certainly did!
Listen to the full episode here
Other Resources referenced:
Take Action: