Books + Blogs
Check out Cathy's award-winning books, blogs on self-awareness, & recommended readings from Cathy+Todd.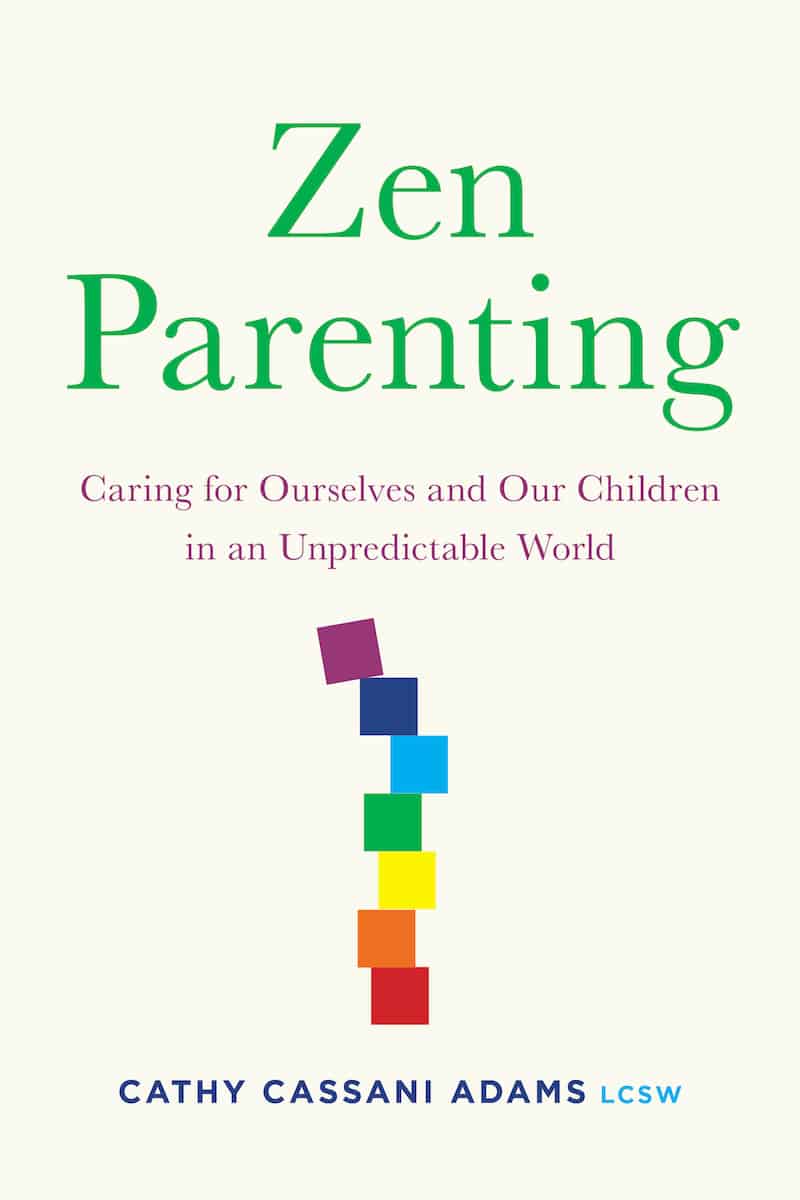 ZEN PARENTING: Caring for Ourselves and Our Children in an Unpredictable World
BY CATHY CASSANI ADAMS, LCSW
LET COMPASSION BE YOUR COMPASS.  The times we live in have brought to light that we can't always plan for what's next. The truth is life is never predictable, especially as parents. What is possible is our unlimited capacity for compassion and caring—for ourselves and for our children. As we navigate the uncertainty with openness and humility, we find the clarity, connection and community that is Zen Parenting. Pre-order your copy today.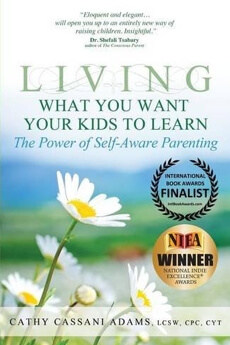 Living What You Want Your Kids to Learn: The Power of Self-Aware Parenting
by Cathy Cassani Adams

In a candid and uplifting manner, therapist-coach and podcast host Cathy Adams shares everyday epiphanies from her own parenting and professional experiences to reveal that while becoming a self-aware parent isn't always easy, it is powerful and liberating. All too often we fall into the trap of parenting without a real awareness of what we're doing and why we're doing it, invariably using other peoples' ideas and values or outdated child-rearing techniques. By developing self-understanding, then parenting from this authentic state, we become joyful individuals who live in a way that's true to ourselves. LIVING WHAT YOU WANT YOUR KIDS TO LEARN focuses on how we can rediscover self-worth and parent in a more connected way. Because children learn by watching how we live, not by listening to what we say.
BUY From Amazon Buy from Zenstore* PREVIEW 
*Signed copy from Cathy when you buy via our ZenStore!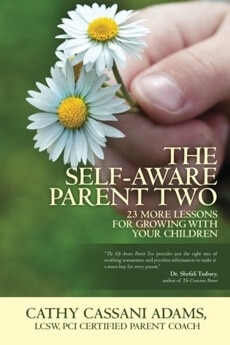 The Self-Aware Parent Two: 23 More Lessons for Growing With Your Children
by Cathy Cassani Adams

Cathy Cassani Adams continues her journey of self awareness and introspection as she shares more life lessons realized in everyday parenting experiences. She empowers parents to take care of themselves and trust their instincts while reminding them to be fully conscious of what they bring to every relationship. This book will inspire you to live in the moment and appreciate the little things while simultaneously reminding you to reach for your dreams. The Self Aware Parent Two is a book of easy-to-read articles, each with their own lesson or contemplation. It's the perfect book for the busy parent who desires information and growth, but doesn't have a lot of free time for reading. read more
BUY From Amazon Buy from Zenstore* PREVIEW 
*Signed copy from Cathy when you buy via our ZenStore!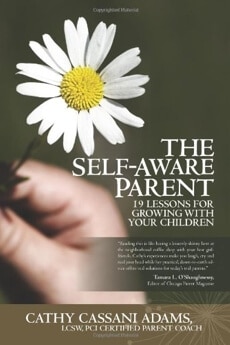 The Self-Aware Parent: 19 Lessons for Growing with Your Children
by Cathy Cassani Adams

If we are open to it, we can learn a great deal about ourselves through parenting. When we can tap into this wonderful gift of self-awareness, we naturally become better parents. Parenting endures from a child's birth to adulthood, and there are new and important lessons for us to embrace at every age. Through a series of relatable essays, Cathy Cassani Adams highlights the rich learning moments in our everyday experiences with children. Practical, yet profound, lessons emerge: • Taking care of yourself makes you a better parent • Accepting your children for who they are is the key to their self worth • Talking about feelings is essential at every stage of development • Understanding children's misbehavior makes discipline less daunting • Slowing down and simplifying makes parenting more enjoyable • Practicing self awareness leads to a healthy and trusting relationship with your children.
BUY From Amazon Buy from Zenstore* PREVIEW 
*Signed copy from Cathy when you buy via our ZenStore!
What Readers are Saying
Reader Reviews
Books we love & Recommend
Cathy+Todd's Library