Zen Parenting Radio
Parenting Podcast
Welcome to our Zen Parenting Podcast. For over 10 years we've shared our life experiences and lessons as a parent, a spouse, and a fellow human. Every podcast episode is a reminder to wake up to our lives; to be ever more mindful, self-aware, and compassionate in how we parent and how we treat ourselves and others. We show up as our authentic selves and incorporate what we love—music, movies and humor—in our conversations about spiritual growth, emotional intelligence and compassion—to make our relationships around us more connected, and our world more compassionate. We hope you enjoy! ~Cathy and Todd Adams
Listen on Your Podcast App
OUR MOTTO
The best predictor of a child's well-being is a parent's self-understanding
Listen on Podcast App
Subscribe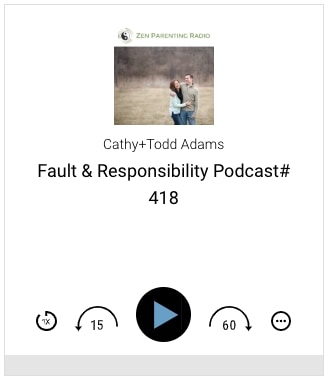 Cathy's Favorite
Listen, Allow, Support, Repeat #244
Cathy and Todd share a letter from a listener whose son discovers himself through dance, and how this discovery leads to self-aware parenting. It's an inspirational and emotional story about how to create a connected relationship with your child. Cathy and Todd also discuss Pixar's Inside Out.
Listen and Get Show Notes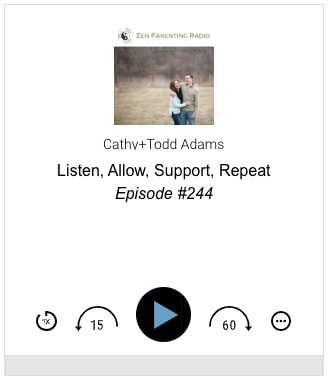 Todd's Favorite
Pink Floyd + Conscious Parenting
#175
Mother do you think they'll drop the bomb? That's the first line in this epic song. We disect the lyrics and use it to help understand conscious parenting. Roger Water's song points out we can have the best intentions when "protecting" our children, but if done with a lack of self-awareness, it can backfire.
Listen and Get Show Notes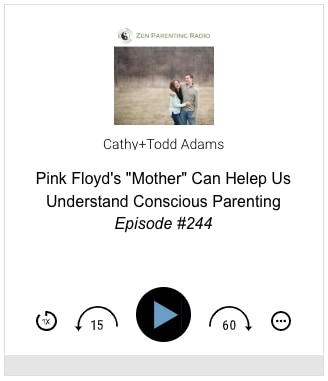 Media Spotlight
In The News
Past Guests
Conversations
with People We Love
Every so often Cathy and Todd do an interview with someone they find extraordinary - they call these podcasts Conversations with People We Love because they are inspired by their work and excited to share their message.
Meet all Guests

Voice of our Listeners
Podcast Reviews
Turning mundane into inspiring!
SanDiegoMomJen, USA
Zen Parenting Radio has changed my day to day life. The mundane and sometimes frustrating tasks of the day have become productive and thought-provoking. Now I look forward to folding laundry or my commute so I can listen to Todd and Cathy. They are authentic, funny and a wealth of information and resources. As I am encouraged through Zen Parenting to become a more self-aware person, I already see the positive impacts in my parenting, marriage, and relationships. I never thought I would wish my commute was longer.
Todd and Cathy's approach to mindfulness and conscious parenting is both refreshing and humble. They help parents gain insightful information through self-discovery, humility, and without judgment. You leave a podcast feeling inspired and positive, versus shamed and less than. Their genuine love for another, their children, and the community at large is a welcome change. This podcast is a must. A true game changer.
Hands down my favorite podcast!
Lily S., USA
Todd and Cathy are right that listening to Zen Parenting Radio will make you feel outstanding! I just love Todd and Cathy and listening to Zen Parenting Radio always brings a smile to my face. The way they parent and live life is so in alignment with my own values and listening to Zen Parenting Radio this past year has made me a better mother, wife, school psychologist, and human being. Listening also helps restore my views on humanity when life gets me down. It also makes me feel less alone and recommitted to my desire/intention of being an aware parent. As an aside, I love Cathys books and have read all 3 and they are amazing. I have turned friends on and one even began listening before she got pregnant and it is a joy to get to share our love for Todd and Cathy and Zen Parenting Radio.
Enlightening podcast
Grateful parent in Colorado
Cathy and Todd, First I would like to thank you for your work. I found ZPR a year ago at just the right time. I am sorting through what I want to keep in my parenting and what I want to move away from. Your show has opened a whole new approach to living and parenting that feels like "moving toward the light". For this, I am forever grateful. Thank you for the light you bring to the world.
Zen Parenting Radio
Pop Culturing Podcast
In this entertaining, funny and smart look at pop culture, join Cathy+Todd as they take a Gen X viewpoint on movies/TV with an emphasis on personal growth and self-awareness .